Holden.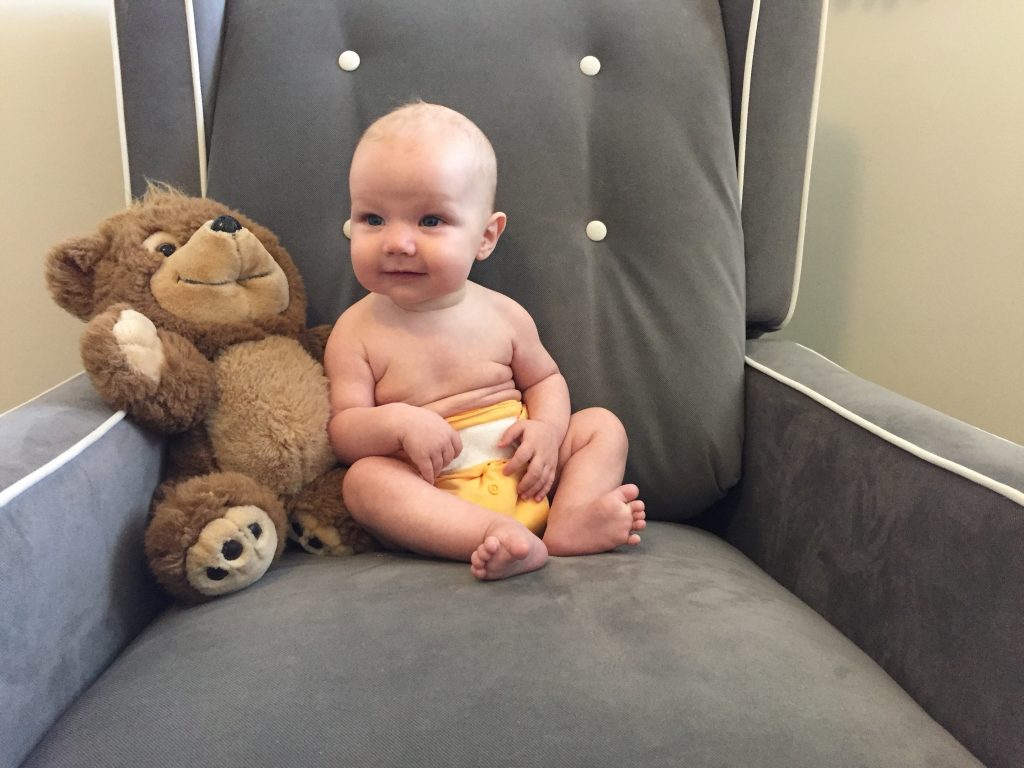 At 5 months he has zero teeth (a fact which brings me great joy, because I am obsessed with his gummy little grin and I know that once he gets teeth he'll start going through that weird-looking phase that all babies have). He watches us all like a hawk, especially at dinner time, so I've let him gnaw on cucumber slices, carrot sticks, strawberries, and the like. He really really likes to nurse (we are nursing exclusively!), and I think once I start giving him food for real he's going to become a little addict.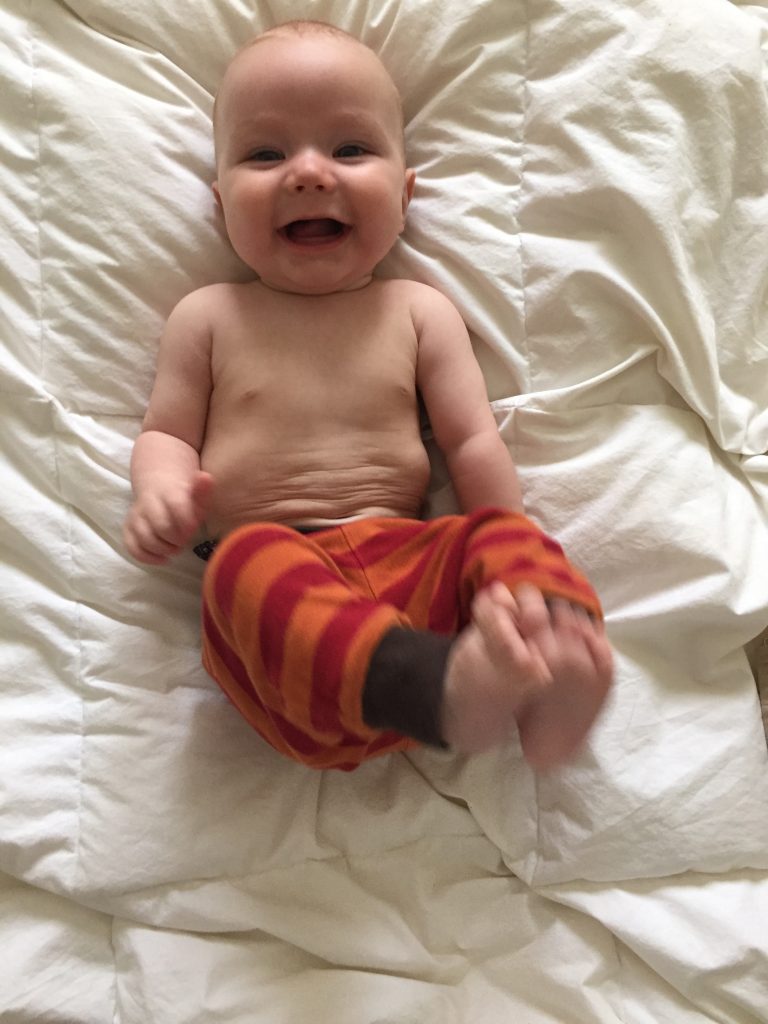 By the time Hutch was this old, he'd spent many many hours alone with his daddy. Holden, on the other hand, has only had a handful of hours away from me, and I'm pretty sure zero one-on-one time with Kyle sans Hutch. It's harder for Kyle this time because Holden is so attached to nursing. And Hutch's little toddler needs are so all-encompassing that trying to manage both at one time without built-in soothers is very overwhelming. I don't really blame him. But I look forward to the time that Holden is a little more independent from me so he can get to know his daddy better. And until then, I'm blooming. Or trying to.
In that way he is very different than Hutch, but in other ways they are a lot alike. Holden is a pretty mellow baby—we've been blessed with two blissfully non-colicky infants. He's usually very happy as long as he's well fed. He loves watching any action happening around, and complains very loudly when the action (usually Hutch) leaves the room. I have a feeling that once he starts crawling (as of yet he's rolled over a few times but seems to have forgotten that he ever did it) he's never going to leave Hutch alone.
And I *hope* that they are good friends and play together well so they can entertain each other and I can once again poop in peace.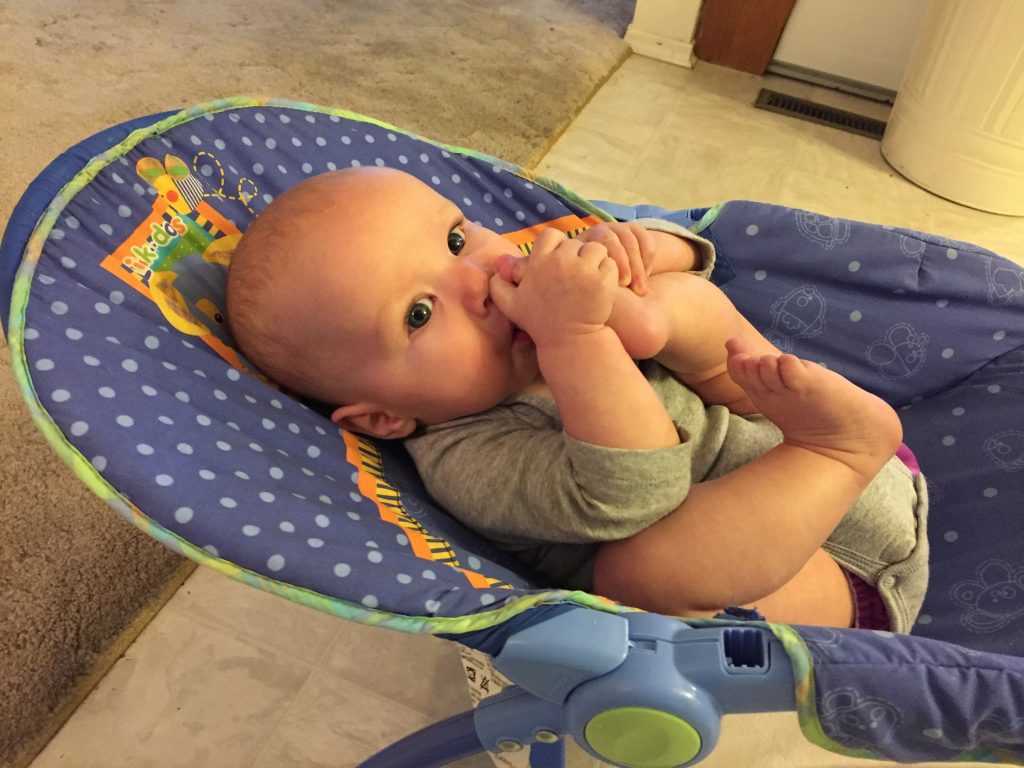 People ask me if Holden is teething because he is always in search of something to chew on (including, lately, his big toe). But that's just how he's always been. Usually when he's laying on the change table getting his diaper changed he will reach out with both hands and grab onto my forearm to try to chew on it. Same thing when he's nursing—he grabs onto anything he can find: my shirt, a thumb, the blanket, the b00b—and holds on as tight as he can. It's almost like he's trying to somehow consume more than just milk. Like he wants to consume it all. I hope that means that he'll set his sights high when he's all grown up, but now look at me projecting my own adult dreams onto my infant son. It probably just means he likes holding on to things.
He's a scrappy little baby. Even before he could roll over officially he started rolling from side to side to find me when he woke up in the night. (Oh yeah, we co-sleep. Call the parent police.) He makes sure he gets what he needs, and I think it's pretty adorable of him, at least for now. I'm sure as a teenager it's going to drive me kind of crazy.
He's so soft and squishy. Everybody comments on it, even Hutch. Hutch loves to cuddle up next to him and cries when I have to take him away, to change a poopy diaper for example. Everything about Holden is soft. His back is squishy, his cheeks are squishy, his tiny little thighs are squishy, even his forehead is somehow, impossibly, squishy.
He's started doing this adorable thing where I pick him up and he buries his face into the nape of my neck and squeals. The noise is muffled because of said burying-face-into-neck, but when I move his head up so he can not be muffled he just pushes it right back down again. I think he just likes the sensation. Try it on someone who won't call the police—it is strangely satisfying.
He's our funny little boy—"such a good sweet li'l baby" according to Hutch—and we are madly in love with him.