Was going through the drafts in my draft box and found this. No time like the present to post three year-old photos! Except perhaps three years ago.
•••••••
This is an update of the amazing trip I took to Europe last summer three summers ago. Slowly but surely I'm posting about every day I spent on that excellent continent. To read earlier updates, click here, here, here, here, here, here, here, here and here. And here. And here and here and here and here and here.
••••••••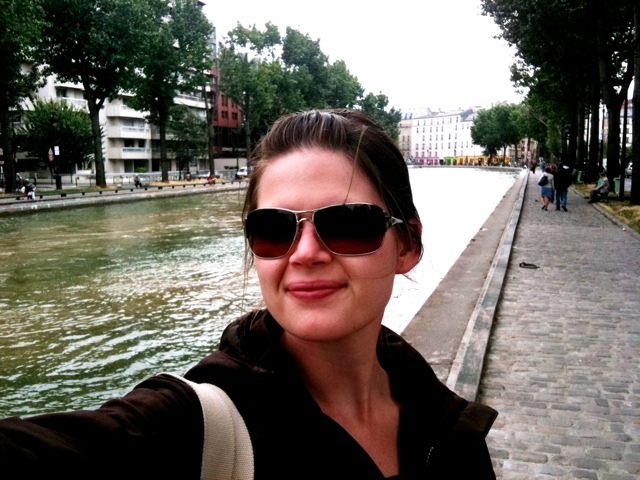 My favourite thing to do in foreign countries is ride the city bus and get off at any stop that looks interesting, then walk around until my feet are sore and hop back on the bus. I did that this day and discovered Canal St. Martin, a darling little area with street performers and picnickers and bridges at regular intervals. I walked down the canal way too far going one direction because every time I thought I'd turn around I'd see another lovely shop or vista that I had to investigate. It took me like two hours to get back and by the time I did the buses weren't running as frequently so I was quite late getting home. But I didn't get mugged, so the day was a success.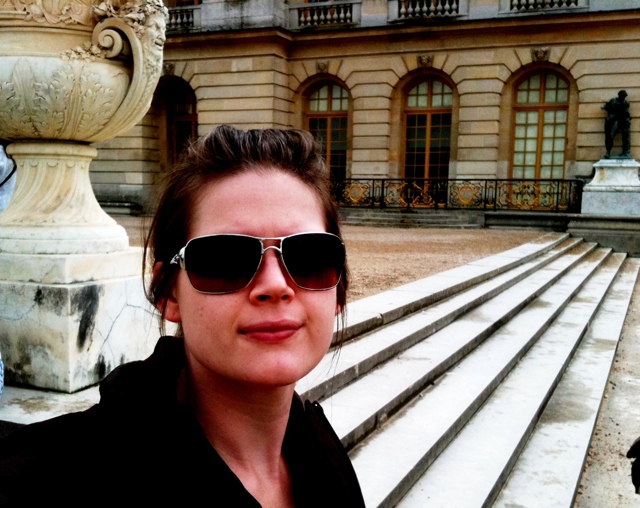 The steps of Versailles. As a preadolescent my mom bought me a series of books about prominent girls in history, written from their own (fictional) perspectives, and my favourite was about Marie Antoinette. Knowing very little about French history at that point, all I took away from the book was how wrongly she'd been treated. Of course there was more to it than that, but her story stuck with me anyway. I felt she was my own personal famous friend. So going to Versailles was a huge accomplishment for me, a goal I'd set years before that I never really expected to achieve.
However, when push came to shove, I had already spent my allotted budget for the day and tickets to see inside the actual palace were too expensive for me. Plus we only had two hours there and I really wanted to explore the gardens. So I did, and although I do feel bad that I didn't see either the palace interior or Petit Trianon, I know now that if I set a goal to get back there someday I will. So all is not lost.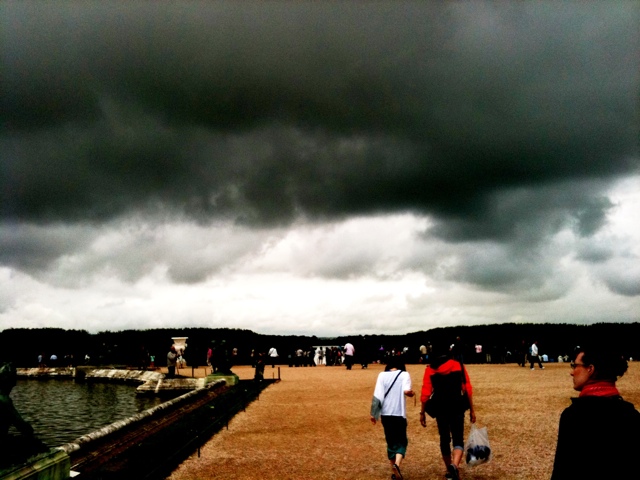 While we were there a terribly ominous storm rolled in and we got poured on. Luckily I had my umbrella I purchased the day we got poured on in Chartres, and I ended up sharing it with a middle-aged mom and her teenage daughter. They were from Texas and the girl was probably the most stereotypically whiny American teenager I've ever met in real life. She was miserable, her cell phone didn't work, why did they have to come to this stupid garden anyway. I wanted to shake her but instead I bit my tongue and thought, "Someday you will regret this."
She probably won't but it made me feel better.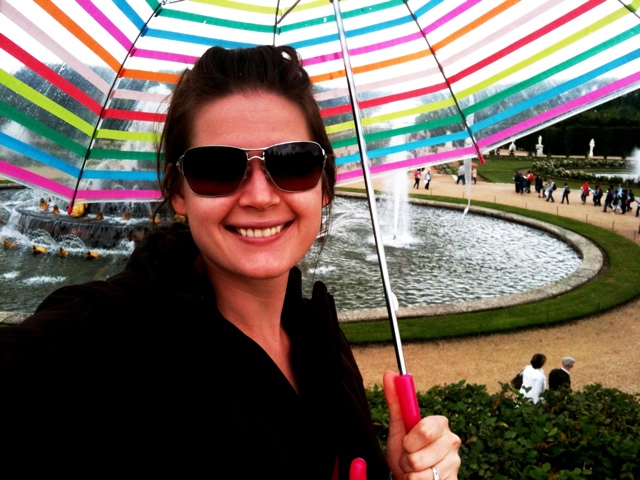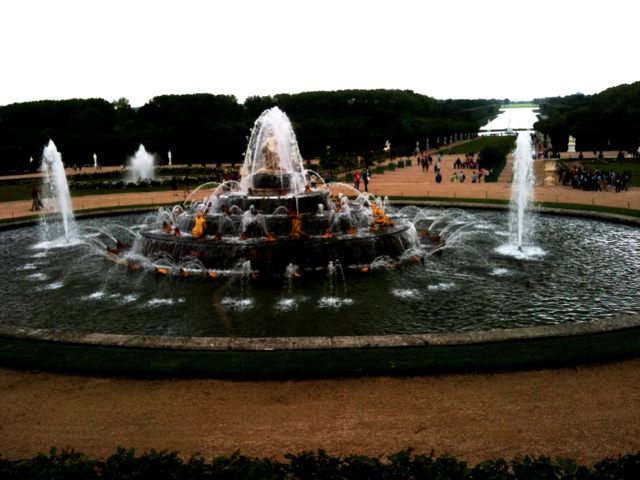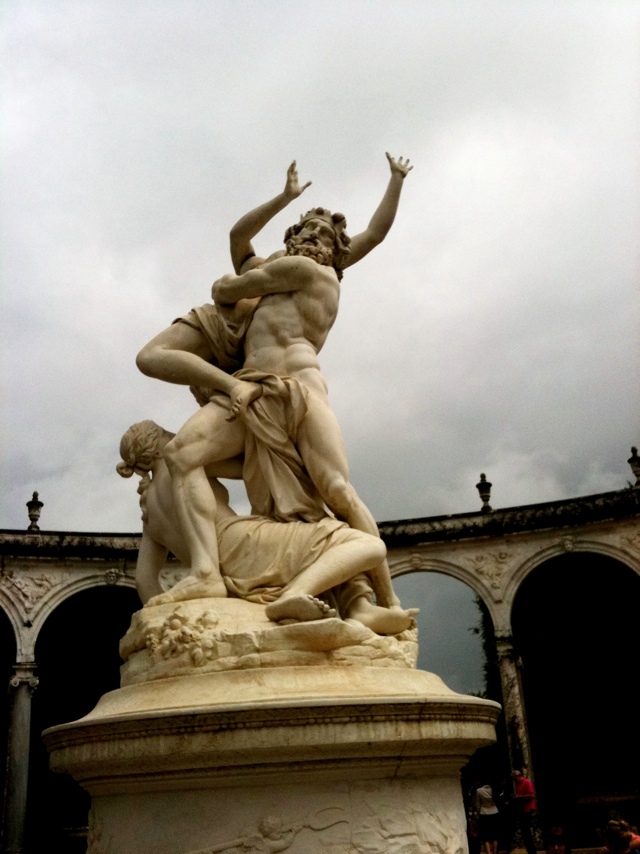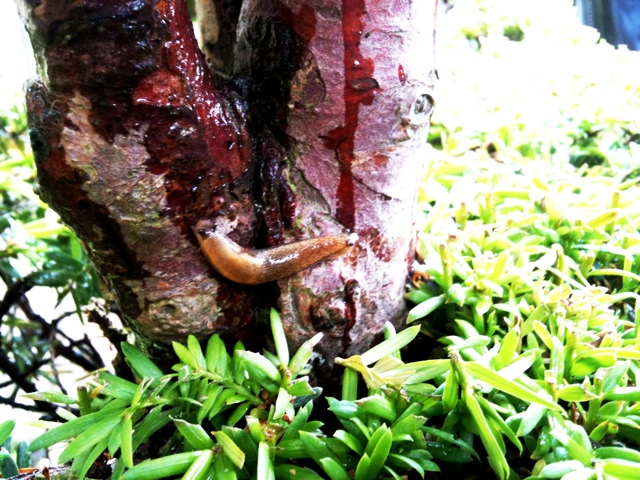 While I was waiting to meet up with the rest of the group to head back to the train station, I spotted this slug on a bush. It struck me as the most profound analogy for life: there I was at Versailles, a palace and estate legendary in its meticulous opulence, where the groundskeepers were literally walking around with cardboard cut-outs and scissors trimming each bush by hand to uniform size and shape, yet even they could not outwit the slugs.
Oh well.
Our crappy hotel was in a region of Paris far far away from all the historical parts of Paris. It was called La Defense, so named after this square tower. Many years ago when I nannied for a French family, the father of my charge told me as we drove past La Defense from a distance that he used to work in an office in that building. When I actually walked up to it and was able to see it in detail I became slightly less bitter about the horrible location of our lodging. I mean, look at it: it's pretty neat.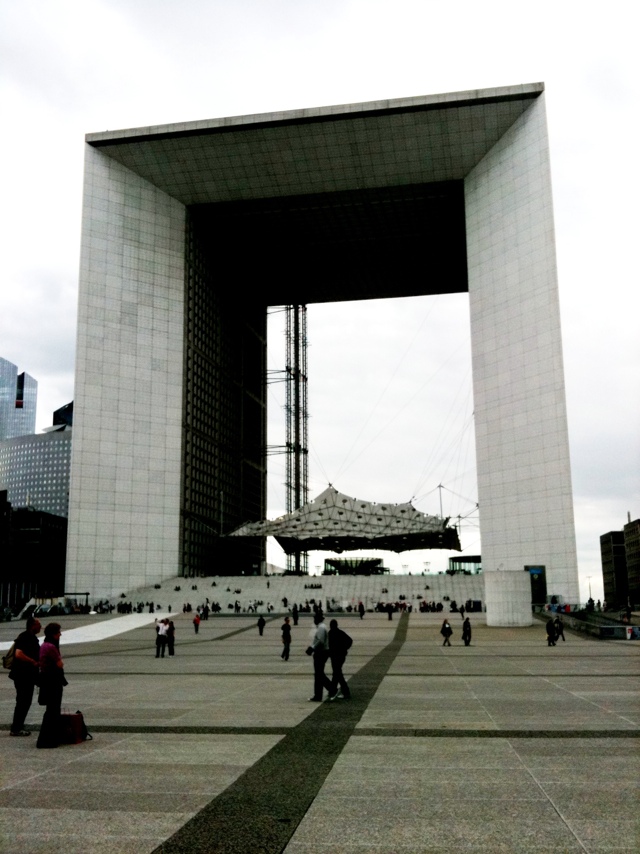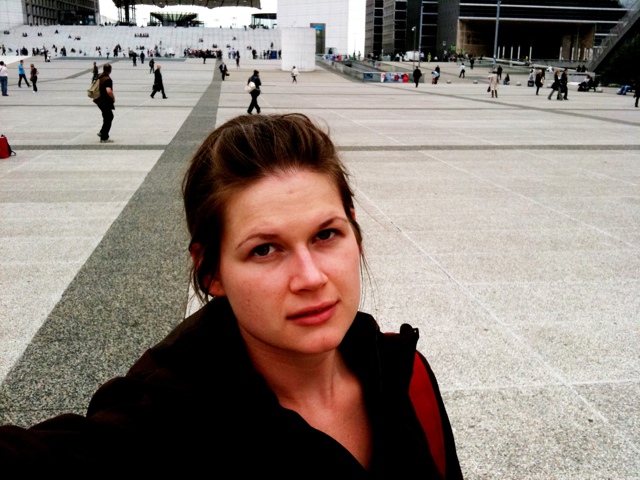 But all the cool architecture in the world couldn't make up for the blisters I got from having to walk substantially more than we would have if we'd stayed somewhere closer to the hot spots.
Three years and I'm still not fully over it.
Oh well.