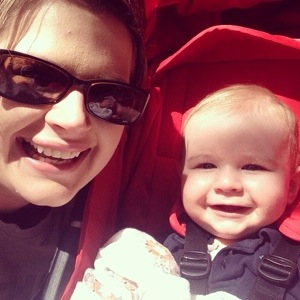 Hutch and I are in Mesa soaking up the sun and the familials. I flew here with him all by myself and I don't think I can express in words the level of anxiety I felt in planning the journey down here.
Before I had a baby (and even while I was pregnant) I could fly all day long and be perfectly fine. In fact, I loved it. I loved the challenge of the airport, the joy in a nice set of luggage, the smug satisfaction I took in navigating the lines and crowds more efficiently than the frazzled looking lady in front of me, all of it.
But the moment that little ten-pound bundle of joy popped out of my hoo-ha travel became immensely more intimidating—terrifying even. When Kyle and I were visiting over Christmas my parents offered to fly us out to Texas to see my grandma there, and I literally turned them down because I was too afraid of packing for all three of us and hauling all our gear (car seat, stroller, pack n play, etc.) through the airport. Not to mention the baby himself: a living breathing ticking time bomb. A loose cannon. (Why are so many baby metaphors related to explosions? Asked no one ever.)
So when I agreed to bring Hutchy down to visit this month, and to do it all by myself, I knew I had a big feat ahead of me.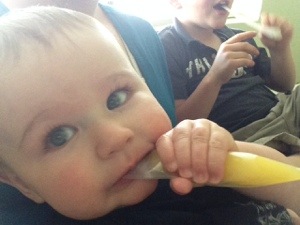 As with almost all the crises I face, I dealt with this one the best way I know: by planning/worrying obsessively, expecting epic disaster, and praying to prove myself wrong. (My mother would describe this with the very self actualized mantra, "Plan for the worst, hope for the best, and take what comes.")
Here are the challenges my angst-addled mind decided were most pressing, and how I dealt with them:
MAIN PROBLEM: Kyle would not be flying with me.
SOLUTION: Spend as much money as necessary to make my life as easy as possible. See below.
SUB-PROBLEM 1: The stroller I bought (after hours of research and years of pining, yes I said years—I had picked out the stroller I wanted long before I even wanted to have a baby) was too big to mess with through an airport and too fancy to trust with baggage handlers.
SOLUTION: Buy another stroller. Cheaper, smaller, and better suited for quick trips through security and easy delivery at the gate. I bought it off Craigslist and saved about $60.
SUB-PROBLEM 2: I wouldn't be able to push the stroller and two suitcases at the same time. (In the Calgary airport when flying to the US, we have to go through Customs *with* all of our luggage, even the luggage we're checking on, and *then* we get to drop it at a conveyer belt to be loaded onto the plane. It's a silly system.)
SOLUTION: Buy a baby carrier. Put Hutch in carrier, put the luggage on a luggage cart, fold the stroller and put it on the trolley until I got rid of the baggage. Realise that this makes the purchase of second stroller silly because it's only being used to transport infant from *after* security up to the gate. Squelch buyer's remorse by reasoning that the smaller stroller is less expensive and therefore necessary to take the abuse from the baggage handlers. Also buy new suitcases that roll better (and let's face it: make me look more beautiful). (I've always wanted to be a chic traveller.)
SUB-PROBLEM 3: Car seats are a hassle to fly with.
SOLUTION: Make my mom buy one for me in Arizona. (Although she ended up borrowing one so don't worry. So far my neurosis has only affected myself and Poor Kyle.)
SUB-PROBLEM 4: We are flying stand-by since my dad works for an airline and has procured us a buddy pass. This is great because it's cheap, but bad because we could be bumped off the first flight, and potentially the second flight too, and there are only two flights a day from Calgary to Phoenix on his airline. It also means that I need to plan for potentially days at the airport before actually arriving in Arizona, because Calgary airport is 3 hours away from Mayberry and Poor Kyle would be dropping me off there, essentially stranding me should anything go even slightly wrong.
SOLUTION: Pack more stuff in carry on.
SUB-PROBLEM 5: Plane might crash, leaving us (supposing we survive) with only the supplies packed in my single carry on bag.
SOLUTION: Pack even more stuff in carry on, including at least a three-day supply of food and diapers for Hutch. I can wear the same underwear and starve but my baby cannot. Consider packing one cloth diaper in carry on in case we get seriously stranded in the bush and I have to reuse it over and over. Take great mental strength to talk myself out of it.
SUB-PROBLEM 6: Already-big diaper bag not big enough to carry 72 hour kits for both myself and my child, plus passports, wallet, spare outfits, laptop, iphone, and chargers for both.
SOLUTION: Buy a bigger carry on. Spend hours researching exactly what kind of carry on this should be, and finally decide on a backpack from Lululemon, much to Poor Kyle's extreme disgust and disappointment. (He hates Lululemon with a thousand passions.)
SUB-PROBLEM 7: Said Lululemon backpack was not available in store, but a different (smaller) version was.
SOLUTION: Buy first-choice backpack from website and pray it comes in time for flight. Also buy less-desirable backpack from store. Return whichever one didn't make the cut.
On and on it went in this neurotic fashion until the money we were saving by flying on a buddy pass had been spent threefold on preparing for every possible catastrophe that might stem from said buddy pass.
In the end, even though I had way overpacked my carry on, I can't say I would've done it any differently. Did I really need to take 12 disposable diapers for one three hour flight? No, but there was a *chance* I'd be stuck there for longer than a day. Did I need to bring enough formula for 8 bottles plus enough pouches of pureed food for 6 solid meals? No, but again: starving baby was not an option.
And for all my planning and insane overspending, it worked out perfectly. We got to the airport at 4:30 a.m., had a minor hiccup at check in, breezed through customs, had a major hiccup at security, shed a few angry tears at the ineptitude of TSA agents, got over major hiccup, purchased a couple of 1-litre water bottles after security, grabbed a quick smoothie and made it to the gate just as the first call for boarding was announced.
Hutch and I lucked out with an upgrade to First Class PLUS a vacant seat next to us (I know, you hate me; I hate me for you). I'd timed his bottle almost perfectly so he was hungry at take-off and his ears didn't seem affected by the pressure change at all. He pooped his pants almost as soon as the seatbelt light went off, so that was a bummer, but nothing I couldn't handle in the tiny cabin bathroom. He snoozed for about thirty minutes, and chewed on random crap in my carry on for the rest of the flight.
He didn't cry a single time, and the only close call came when he pooped his pants *again* the minute we landed, and we were stuck waiting for our gate with the seatbelt light turned on for about ten minutes. By the time we were free his diaper had leaked and his poop was very obviously seeping through his outfit, and also kind of smelling bad. I opted to stick him in the baby carrier and book it to the nearest airport bathroom where I used almost an entire case of wipes cleaning him up. I was very glad I'd taken the advice of a million parenting blogs and had packed a spare outfit and a bag for dirty clothes; otherwise he would have been cruising through Sky Harbor in nothing but a diaper.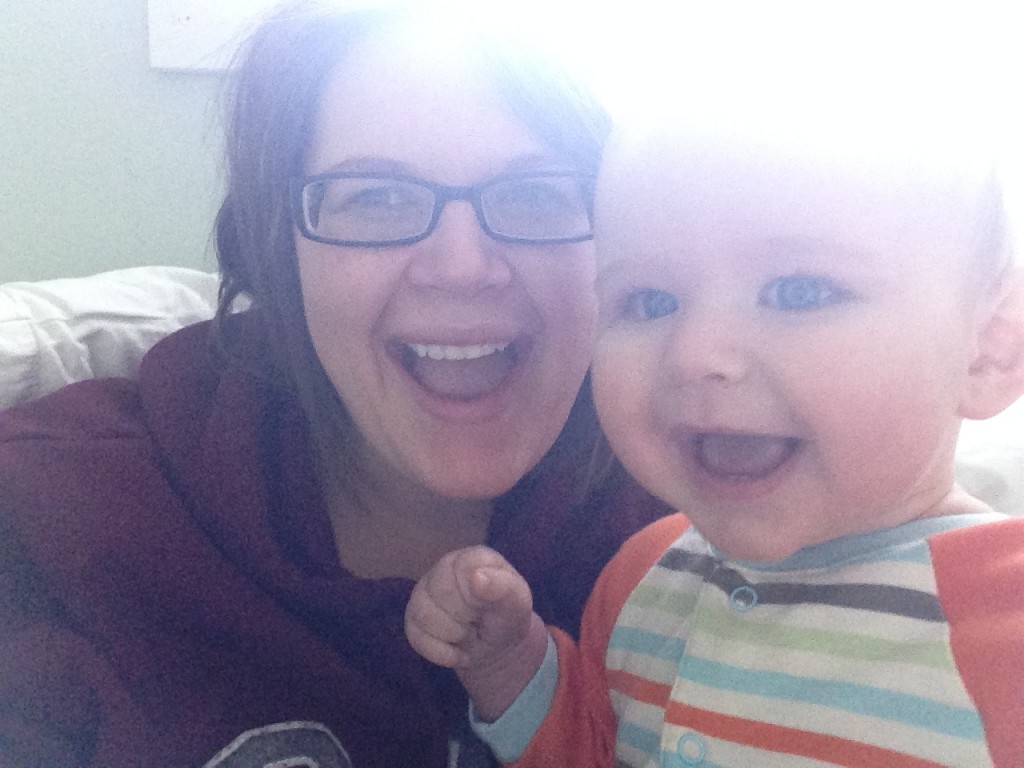 I am eternally grateful the experience was so painless, and that Hutch was such an accommodating little travel buddy.
And yet despite this all, I'm still dreading the trip back. Because each trip is different. Every day is new, and all the catastrophes I planned for this time around could just as easily happen next time.
Does this paranoid worrying ever end?