Several months ago I signed up to buy a little chunk of ad space on a seriously funny blog, ABDPBT.
There was a really long wait list for said ad space, so I figured I'd have plenty of time to whip my own neglected website into tip-top shape before the ad would ever run. I had months to hire a designer and programmer to create a sweet theme and program some lovely landing pages (i.e. "About Me," etc.) for all my new readers to explore once they found my blog from Anna's. I had weeks to churn out my best posts ever. I had forever to make my blog perfect and beautiful and the best place on the internet. (Right…)

But of course, as these things usually go, my intentions were shot to shite and here I am, opening my cyber home to an influx of new visitors with curlers in my hair and my bathrobe on and not even a bra underneath.
Typical.
So, to anyone stopping by today for the first time…
Hello. I'm Camille and I have a butt-chin.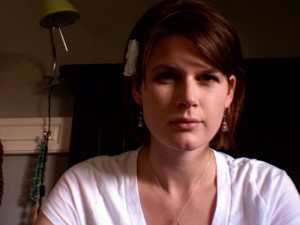 Welcome to my blog. I'm sorry you have to see it in such a sorry state. You are catching up with me just as I'm coming out of one of the toughest semesters of my college experience, and (sadly) just as I'm entering a semester even tougher than the last.
My blog has been a bit neglected as of late on account of some pretty hefty research papers, final exams, the usual.
But I haven't given up on me yet.
And I hope you don't either.
In case you're interested, there was a time when this blog got updated five days a week, almost like clockwork. (I like to call that The Golden Age of AoOL.)
Some of the posts born during TGA are listed there in my right sidebar.
But alas, as with everything else around this joint, even my sidebars are outdated.
So I've compiled a list of some of my favourite posts that you might be interested in checking out.
If you have the time.
Which, if you're anything like me, I don't suppose you do.
But just in case, here's what makes this blog tick:
I have been married three tumultuous years (to a guy missing his two front teeth) and here's what I have to say about that.
And here's what I have to say about his ex-girlfriends. (Hint: it's not very nice.)
I call my husband Poor Kyle. For reasons that should, by now, be obvious.
I live in a town called Mayberry.
I'm sort of antisocial. And by sort of I mean clinically.
I'm also kind of sheltered. And by sheltered I mean prude. (Which may or may not be another reason why Poor Kyle is so Poor.)
I once went two+ months without using shampoo. That was fun.
But really, if you don't have time to read any/all of those posts, you can pretty much find out all you need to know about me and this blog by reading this one sentence (and if you feel compelled, then also the link that goes with it): I really don't like Taylor Swift's songs.
So that's that. Thanks for stopping by, feel free to hang around, yadda yadda etc. etc.
I'll try to make it worth your while.
But I won't make any promises because I'm also pretty noncommittal,
cpsf