Well, the day has finally come.
I don't know if it is because of school, or not buying presents for my family, or not volunteering as Santa's Little Helper, or not having 99.9 KEZ radio station's continuous Christmas music to listen to, but for whatever reason (and probably all of the above), I absolutely do not feel like it is Christmas.  It seems like just another day to me.
Nevertheless, my humbuggity attitude should not mean you are abandoned on Christmas day. I know most bloggers don't post on Christmas, but I usually find myself with a few hours of down time after all the hubbub is through, and wishing my Google Reader™ was not so empty. If you do happen to read this today, please know that I love and appreciate you—all of you, my dear readers.
I have watched in wonder as my stats have remained fairly consistent over the past few weeks, despite my neglect of all y'all.  I know I have not treated you right, but I appreciate you sticking with me as I muddled my way through the end of this semester. I consider each and every one of you my friend, and I look forward to another year of sharing my life with you. If you are alone today and you want to be alone, then good for you. If you are alone today and you wish you weren't, I hope at least this post makes you feel a little less lonely. Nobody should feel alone if they don't want to be.
And now, enough with the mushiness.  I have a holiday to grumble about.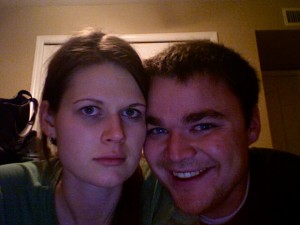 Merry freaking Christmas. I'm glad it's finally here, so that it can finally be over.
—Cheers,
Camille (and Poor Kyle, by default)