I've been having some amazing luck lately. A few weeks ago I entered a giveaway hosted by Kelly at One Day at a Time, and wonder of wonders—I won!
Kelly wrote about this awesome organization called Bead for Life, which helps women in third-world countries earn money and become more self-sufficient. But you can (and should) read all about it at Kelly's post.
The necklace I won is a 17-inch green beaded necklace, and I have literally worn it every day, with every outfit, since I got it in the mail last week—with black. With white. With red. I don't know why, but this turquoisey-teal (are turquoise and teal the same thing?) necklace seems to go with everything!
(Either that or I just like it so much I don't really care whether it matches or not. I wear it anyway.)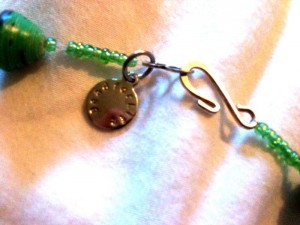 My favourite part is the clasp detail. No finicky mechanisms or frustrating latches (which are impossible for my arthritic fingers to maneuver); just a simple S-hook and figure eight loop. Add that to the tiny embossed charm that reads "Bead for Life," and it's pretty much impossible for me NOT to adore this necklace.

And here's proof of me wearing it with my newest favourite outfit. (Poor Kyle took this picture of me just before we headed out on an hour-long walk a few evenings ago. A day or so later, I ran into my neighbor, Mrs. Flanders, who had apparently watched the whole episode from her front window and wanted to know what it was all about. It just goes to show that in Mayberry the very streets have eyes. You can't pick your boogers here without half the town knowing about it. But Mrs. Flanders is a dear soul, bless her inquisitive heart.)
Thanks, Kelly! I am delighted with my prize.