Having lived in both Arizona and Alberta, Canada, I consider myself an expert on international idiosyncrasies.
For example, in Arizona, drivers are (largely) rude and aggressive, while in Alberta, drivers are (overall) courteous—sometimes dangerously so. In Arizona, the percentage of restaurants dominated by the Mexican food market is high, whereas in Alberta, Chinese food reigns supreme. I'm pretty much a cultural anthropologist, see?
Well, today I would like to discuss another difference between Arizona and Alberta: ceiling fans.
I've never been to a house in Arizona that doesn't have at least one ceiling fan; most houses have them in every room. In Alberta, however, a great many homes don't have any ceiling fans at all—I guess people think they're unnecessary in the cold, right along with deodorant and flip flops. And most homes that do have ceiling fans only have one or two throughout the entire house. In fact, when Poor Kyle bought our house (before we were engaged), everybody commented how truly unusual it was that there was a ceiling fan in all of the bedrooms and the living room.
In Arizona, ceiling fans are the rule; in Alberta, the exception.
I, however, am an Arizona girl at heart, and therefore will always cling to my passion for ceiling fans. And the thing is, in my house back in Alberta, while I really appreciate that we have all those fans to cool our air condition-less house down on hot summer days, I cannot get over the fact that the fans are really ugly. I mean UGLY. Chosen by the previous homeowners in the height of the '80s, our black faux-marble (yes, faux MARBLE) fans look like they belong on the set of Screech's mom's house on Saved By the Bell.
It's bad.

Since I am back home in Arizona for the summer, I have been spending my days hanging out with my sister, brainstorming ideas for sprucing up our respective homes (hers in Arizona, mine in Alberta). She already has cute ceiling fans from when they completely overhauled their house a few years back, so she's golden. But I am in need of some ceiling fan help.
I turned to Premier Lighting's website, an Arizona-based lighting company which claims to "stock more than anyone in the southwest," to see what I could see.
Here's what I found [all images from Shop Premier]:
I thought this beehive-looking fan was nifty, but I figured Poor Kyle would not approve.
This one reminded me of something I would see on the Star Ship Enterprise (is that what it's called? I have never been a Trekkie, believe it or not). Which, you know, is cool and all, if you plan to live long and prosper. I, myself, anticipate a short life of welfare, so this really doesn't suit my needs. But it's still neat.
This fan, called "Cirque," could not be more appropriately named. Unless it was named "Tomorrowland." Because that's what it reminds me of: that big gyrating statue at the entrance to Disneyland's Tomorrowland. And that's making me hungry for a giant corndog. Anyway, it's not my style, but it's still cool.
Finally I stopped goofing around and narrowed my choices down to two ceiling fans I would actually hang in my house:
Apparently I have kind of a traditional barn-light taste in ceiling fan fixtures. Anyway, I like them.
However, if ceiling fans weren't my thing—I know many fancy-pants designers turn up their hoity-toity noses at them—or if I was afraid of committing to wiring one to my ceiling, I could always try one of these standing floor fans: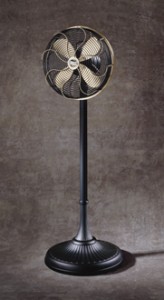 I myself prefer the vintage feel of the above fan, but I cannot deny that the one pictured below is very, very cool:
It's unlike anything I've ever seen.
If you are a fan fan (get it? a fan of fans?), you can head over to Shoppremier.com to see their great options. Or, if you're not a fan fan, you can leave a comment and try to talk me out of getting new ones for my house. Give it your best shot.
But I'll warn you: it'll be a hard sell.
**I was compensated for this post, but that doesn't change the fact that I had a wonderful time checking out the company and the great many items it had to offer.**