**I posted this a few days ago but then a few hours later I finally finished my feminism post, and once I'm done with a post, I can't just let it sit in my draft folder, I HAVE TO PUBLISH IT, to cleanse myself of it if you will. So I don't think this post got read by many of you. So I'm bumping it up to today's post. Sorry if you've already seen it. How boring for you.***
I am not a designer.
My house lies in that precarious perpetual state of unfinishedness, doomed to be forever stuck between popcorn ceilings and shiny white fake marble tile.
And sometimes I do all right.
But mostly, I just fail.
I don't have the money to do what I really want, and despite the myriad of Design-on-the-Cheap blogs out there, if your house doesn't have good bones, a measly coat of paint aint gonna fix nothin'.
And if good bones are key to good design, let's just say our house suffers from a degenerative case of osteoporosis. Bless its feeble little heart.
For example: in our kitchen, our countertops are 1980s blue formica with specs of black, brown, and white. What I want our countertops to be is inch-and-a-half thick dark maple-stained butcher block.
Our backsplash consists of four-by-four white ceramic tiles interspersed with randomly-placed mexican-looking diamond tiles (but don't worry, that's only the top layer of tile…who knows what that sub layer will reveal when I finally get around to knocking it down—yes, there are two layers of tile plastered to my kitchen walls). What I want our backsplash to be is two-by-six white ceramic subway tiles with a magnetic knife strip above the stove. I bought the knife strip ages ago, but subway tiles have I none.
I know subway tiles are cheap…but cheap is not free. It could be as little as $100 to re-tile our backsplash, and that would be too expensive…because it's not free.
And no amount of paint, chalkboard or otherwise, is going to change that. You can paint countertops to look like granite, I've read how…but why waste the money on a temporary fix that I know I won't be happy with when I could just save that money in a jar for real butcher block someday?
(Yeah right. The money in that jar is going toward more pressing financial matters—necessities like powdered milk and Malt-o-Meal…the breakfast of poverty-stricken champions.)
(Poor Kyle hates when I tell my blog we're poor. "People will think you're serious," he whines. He's ashamed to admit that it's true. Me, I've lived in a state of impoverishment pretty much since I graduated from high school and struck out on my own in the world. I'm used to it by now. Just like breathing—it just comes natural to me.)
ANYWAY, the point is, I'm not a designer—not a real one with lots of money, or even a self-proclaimed one with a little bit of money. I'm a make-believe one with no money, and that's the way it is supposed to be.
One time I heard a real designer speak, though, and what I gathered from that profound experience was this: No matter what space (designers love to call a room a "space" when it's really just a room) you're working with, LIGHTING IS KEY.
We've already established that ceiling fans are a designer's worst nightmare (and that I have one in every room, with lighting kits to boot). So in my attempt to make my office a little higher-end, I've decided to do away with the ceiling fan and install…something else. I don't know what yet, and I can't afford even to look, but you'll know when I know.
But overhead lighting is not the end: the designers told me that I must also account for task lighting.
Like lamps.
And while chandeliers are scary…lamps I can handle.
So I moseyed on over to my favourite (read: only) lighting source, ShopPremier, and browsed their wide selection of lamps in every price range (except mine, which is free, but it's not ShopPremier's fault that I'm destitute).
I entertained myself for a while by finding wacky-looking desk lamps, and was excessively diverted: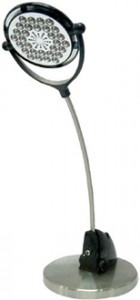 Like this one that reminds me of the old-fashioned radio microphones like the one on Annie when they're advertising for her parents to come find her.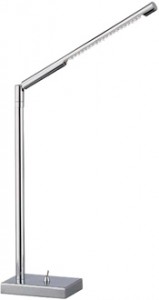 Or this one that looks like something a dentist would use.
Or this one, which looks for all the world to me like a man with a Reader's Digest just about to plop down on the toilet for a good poo. Just try and tell me you don't see it.
But then I got down to business (punny) and found a few desk lamps that I would actually use in my office, if I could afford such luxuries as task lighting: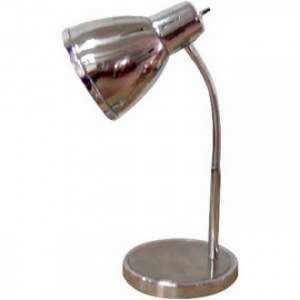 This one seems pretty classic, and you can't go wrong with classic.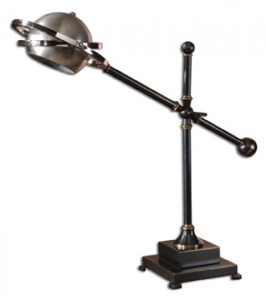 This one looks kind of old-worldy in a good sort of way, like something Copernicus or Christopher Columbus might have had on their desks next to their protractors and compasses (had electric desk lamps been created back then). And I always take any opportunity I get to channel The Great Ones, you know. Greatness begets greatness.

In the end, though, my conservative veins settled on this simplistic-but-Pottery-Barn-looking lamp, which bears a striking resemblance to the ceiling fans I settled on last time.
(All images from ShopPremier.com.)

The best news, though, is that ShopPremier is opening a brand new location in Scottsdale, which is much better for my Mesa friends than Glendale, Phoenix, or Tucson.
The next time I'm in the area, you can bet I'll be heading over to check it out.
Let's just hope I have a little cash flow by then.
****************************
I was compensated for this post, but that shouldn't sway your opinion of me or my blog; it doesn't change the fact that I had a wonderful time checking out the company and the great many items it had to offer.