Charles P. Wiggins the Third was tired of reading stories with miserable endings.
"Why does every short story require a morbid, twisted ending to be a success," he wondered.  "What's wrong with good, old-fashioned happiness?"
He couldn't recall exactly when happy endings had fallen out of style—only that they had, and that was that.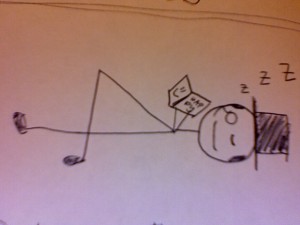 It seemed as though one evening he read himself to sleep—dozed off to the encouraging lilt of heroism and bravery—and awoke the next morning to the cacophony of The Realists.
"Damn those Realists," he cursed every night in a British accent as he sat at his desk to conquer his writer's block.  "Always sucking the life out of every noble plot.  They can turn a love story into a horrific tragedy in less time than it takes to say deus ex machina."
Being a writer himself, he naturally had to live a double life.  He was not granted the privilege of writing what interested him at any given time.  When the world wanted woeful words, he wrote them their sorrows.  When times changed (as times are wont to do), and people again itched for pleasantness, it was his job to provide it.  It made no difference whether he felt melancholy or cheerful—he was forced to perform when called upon.  As a writer by profession, Charles was cursed with the grave misfortune of living one vast, perpetual lie.
Oh, he supposed he could see the enticement of cynicism—he, himself used to fantasize of being a social recluse…
He dreamed of holing up in some cave or perhaps a cabin—yes, a cabin would do capitally—penning [not writing, but penning, the more tormented verb] his anguished thoughts and depressing the world, like Hemingway.  He would never leave, not even to meet publishers.  Instead, he would tame a wild woodland animal—not a bear [too ferocious], but perhaps a fox or possibly a buck-toothed beaver—and whenever a new manuscript was polished to his satisfaction, he would bind it to the beaver's back and send it into the city to deliver the prize.

Upon publication—for in his fantasy, every word he wrote profited him a pound in his pocket and a mouthful of meat—entire cities would read his work and promptly dress in black and go into mourning for the Sad State of the World.  He would change people that way.  Make them a bit more serious.  Sober them up—it would do them all a heap of good.

He would be God's gift to troubled souls.
It was all very clever, his antisocial fantasy, but it ended when he realised the world had enough passionate, melancholy writers.  He needed to be unique—apart from the crowd.  By the time he had earned his degree, hermits had become so commonplace, they'd formed entire neighborhoods up in the hills—they had block parties and everything. United in their solitude, the hermits were.
And so it happened that Charles P. Wiggins the Third—always Charles, not Charlie, and especially never Chuck—decided to bear a cheerful disposition.
Charles wrote wondrous tales.  He spun magnificent webs of golden days and innocent nights; melodramatic episodes of the most delightful nature.  He concocted vast volumes, chapters full of enchanting…enchantments…and they were always carefully constructed with tidy characters and plots.  He was a master of his craft.
But not a soul in the world cared to hear his happy endings.
Poor Charles P. Wiggins the Third—his jolly sagas were out of style and simply wouldn't sell.  A man can't very well starve himself to death, and so, by that rationalisation, he was faced with the hardest decision a frustrated writer ever has to make…
Eat, or be eaten.
***Click here to find out what he chooses!***