I have so much to catch up on with you guys.
I will do it, I promise.
But for now, here is a little sample of what I've been doing this week: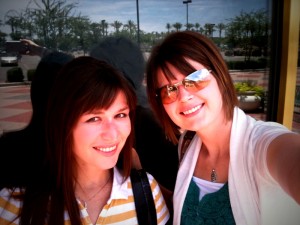 1. I got my bangs cut. I think I hate them.
2. I got to meet some awesome blog friends. More to come.
3. I finagled my sister into driving up to Canada with me. Without her son, ho, ho! I mean, I love the child dearly—more than I ever expected to love a child, to tell you the truth—and so does his mom, but he is exhausting. So for my sister's birthday present, her husband agreed to take over the kid, thus freeing up my sister for a full week of uninterrupted sleep, rest, food, and House M.D. (don't judge). We've had such fun together. Her stay will be a full week all said and done.
4. Together, my sister and I have spent a lot of time psychoanalysing each other. For example, take a look at these salads, equal in content but so very different in form. One was prepared by the Type A personality in the relationship, and the other, with exactly the same ingredients, was prepared by the Type B (is there such thing as a Type B?). Well, if not Type B, then Type Who Purposely Messes Up the Salad Before She Eats it So as Not to Feel Too Stressed Out About Eating it in an Orderly Fashion.
Also known as Type Who Can't Keep Her Bathroom Clean to Save Her Life.
Can you guess which is whose?