Remember Project: Proxy? That brilliant idea I had, the one where I decided to take on any challenge offered to me, like an internet version of Truth or Dare that's only ever Dare and I can only ever accept?
Yeah, probably not the high point of my mental acuity.
First I gave up sugar for Lent when I wasn't even Catholic and I ended up quitting well before Easter.
Failure.
Then I promised to try the gallon challenge and immediate reneged on my oath.
Failure again…sensing a theme? (The theme is a plot and the plot is my life.)
Finally I realised that the entire idea was bad from the start and I just acted like it never happened. Before long, I'd forgotten it ever had. I'm very very good at living in denial—it's the number one skill on my resumé. (And I wonder why I'm unemployed.)
Unfortunately, forgetting is a fickle friend, and before long I actually forgot to keep forgetting. Which is a really crummy way of saying I'm back in the Project: Proxy saddle.
Back when I announced the Project: Proxy feature here at Archives of Our Lives, the very first suggestion I got from my friend Jacque was to try the Shake Weight.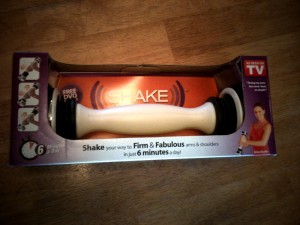 And I have.
Well, just once. This morning.
But I will be trying it every day for the next two weeks (six minutes a day, as the box promises) to see if it delivers all the muscular tonage it claims.
I'll start with before photos and measurements, and change nothing in my diet or daily exercise regimen—except for the addition of the Shake Weight workout, of course.
And at the end of two weeks…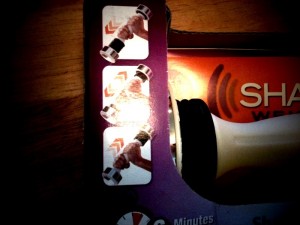 …we shall see.
I'm taking bets: anyone think it will work? Anyone have experience with the contraption?
Let the games commence.