Hello, and welcome to another rousing round of Saturday Steals!

To participate, simply:
1) Steal a steal.
2) Write a post about it on your blog, mentioning that you're participating in Saturday Steals (you can steal the above image if you so desire), and

3. Add the link to said post to the list at the bottom of THIS post.
***********************
This week my steal is a husband steal. Not my husband (though he was a catch, that's for dang sure), but a shirt for him.
I was at my favourite local-and-must-not-be-named hot spot for steals last weekend, browsing with my parents because they love buying cheap Canadian stuff when they come on account of their American money stretching a tiny bit farther up here. And we all know international steals really are the best sort.
I was just looking, not planning to buy anything because hello I'm in the pit of poverty right now, but then I saw a mountain of clothes, and I couldn't resist pawing through them like every other dealseeker that day.
I tell you what, nothing sets my heart aflame like the thrill of a hunt for something cute to wear under a mound of already marked-down crap.
So I started to dig, low-end clothing flying every direction like I was in a cartoon all of my own.
My hunt was not in vain.
I found this shirt, a Big Star button-up shirt that's double lined with fancy wooden buttons and nice thick craftsmanship.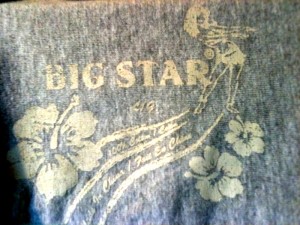 Now, Big Star is a fancy brand. I don't know how much their shirts cost, but I have bought two pair of Big Star jeans in my lifetime (actually I bought one and my sister bought me one for my birthday—wealthy, thoughtful people are so nice to have as relatives, don't you think?) and they were well over $100 each (don't judge me, I'm a special-needs jeans buyer).
So I know that this shirt is worth a fair bit, at LEAST $30 if not $40 or $50.
But for me? Because I am such a keen deal-finder (and also because the fates were smiling on me that day)?
$5.00.
BUT THEN $3.00.
BUT THEN $2.25.
Marked down three times, this shirt—this shirt that is totally my husband's style and he totally rocked when he tried it on after I bought it for him—cost a mere two dollars and twenty five cents. It was perfect, because he is hard on clothes and tends to go through them quickly, so he is always in need of some new digs.
Anyway, it was amazing. But I'm an idiot and didn't snap a picture of Poor Kyle wearing it, so all you get for your model is me (bummer, I know):
********************************
And now it's your turn! Add your steal to the link list below. It will be open from now until Sunday at 11:59 p.m.