(Does anybody else out there refer to their monthly cycle as "Tom?" [As in, Time Of Month?] I do, regularly. Kyle knows that when Tom's here, to be cautious.)
Weeks ago I read on an online deals forum that BeingGirl.ca was giving away free stuff. I didn't even know what it would be, but I signed up to be on the list (because free stuff is free stuff, yo), and promptly forgot about it.
Then yesterday, I went to the Mayberry watering hole to pick up my mail, and what to my wondering eyes should appear, but a package just for me! Score.
I rushed home and tore it open like the animal I am when it comes to swag, and here's what was inside: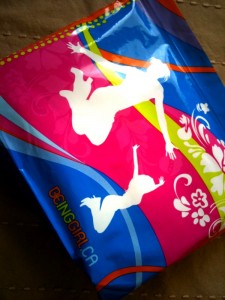 A PERIOD KIT! I love period kits. Nothing makes me happier than free tampons, especially the fancy new kinds with all the bells and whistles that I don't like to pay for (wow, that was such a weird sentence I just wrote).
Look at all the stuff I got: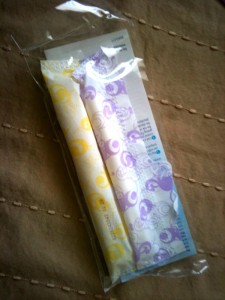 Two tampons…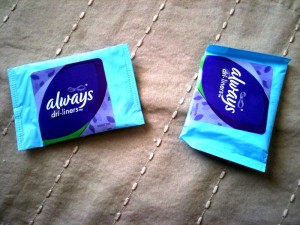 Two pantiliners…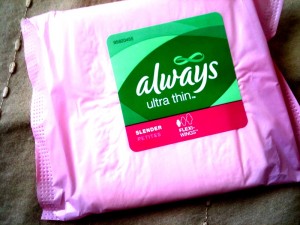 An ultra thin pad WITH WINGS (bonus!)…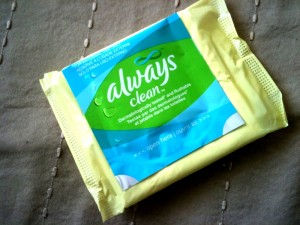 Another pad WITH a free bum wipe (deal!)…

A coupon for an entire (50 count!) package of FANCY pantiliners (the ones that can be adjusted to fit any kind of underwear you should find yourself in, though I myself wear only one kind, the granny kind, but REST ASSURED this coupon will be redeemed)…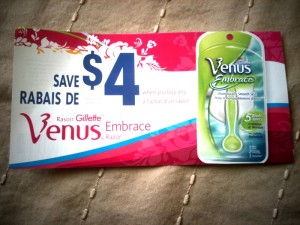 Another coupon for $4.00 off my FAVOURITE kind of razor (well, back when I used to use razors, anyway…before I turned into a cavewoman). I bet if I wait long enough I can find a Venus Embrace marked down to $4 and then it will be free for me…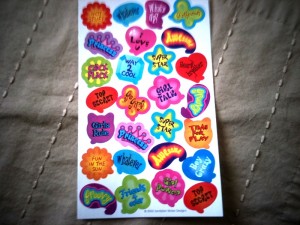 Stickers (apparently BeingGirl.ca thinks all its clients are teenyboppers, but I'm not offended; I'll just give them to my nephew so he can plaster them all over my sister's nice furniture)…
and last but not least…
…a PAMPHLET. I read pamphlets like the Pope reads the Bible, and this one was no exception.
Did you know that…
•having your period doesn't have to be a drag?
•tampons are the only form of menstrual protection for swimmers??
•pantiliners keep non-menstrual vaginal discharge from making underwear wet or sticky???
Oh, you did? Me too. But I liked to re-learn it.
Anyway, that's my steal of the week. All that stuff for free, free, FREE (plus they paid for shipping [I don't know why, but I always feel so appreciative when I see how much money people pay to send me stuff]).
Thanks,
BeingGirl.ca
, for all the swag and free shipping! Do you want to be my sponsor? I would be a great candidate—I have my monthlies on a regular basis and I'm not afraid to write about 'em!
Now it's your turn.
Once your post is written, simply come to the list at the bottom of this post, click "You're next! Click here," and follow the instructions you see to enter your link into this week's Saturday Steals.
************************