This is the Saturday Steals recap of the weekend's steals. It includes photos and links to each person who participated in the Saturday Steals event over the weekend. If you wish that you could have your photo and link showcased on my blog, maybe you should join us this coming Saturday (and ever Saturday for the next nine months) for another round.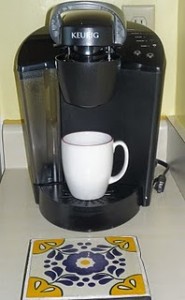 Nain of View from Down Here scored this wonderful contraption—a one-cup coffee maker—as a delightful wedding gift.
Shesten at Two Weeks On Two Weeks Off scored two pairs of cute prescription glasses PLUS SHIPPING for 20 bones.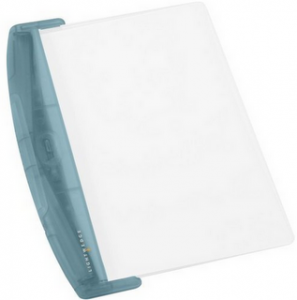 Then, because she is faithful and honourable and lovely and wise, she wrote ANOTHER Steal post at her OTHER blog, I Heart Monster, detailing her nifty new book light (it illuminates the pages from behind, so they're backlit, what a novel idea!) that she got for a sweet deal online.
Niki from A Lovely Lifestyle landed some excellent deals from an estate sale for a total of $22.00—the handbag alone (item D) is worth that!
My Spanish friend Chloe from My New Life as a Housewife got a host of steals, among which were her wedding announcements (!!!) paid for by her parents unexpectedly. They look cute, too!
Molly from Red Rawlins also got a lot of wonderful steals as gifts from friends and family, but my favourite was the segment wherein she waxed poetic on the importance of not being too sentimental about STUFF, for fear of turning into a house like this from Hoarders. Too true, Molly. (I have a room in my basement that looks eerily similar to the above photo.)
**Side note: Did you know that any way you want to spin the topic of Saturday Steals is fine with me? If you want to talk about the best steal you ever got, or the steal you hope someday to get, or the horrible luck you have with steals in general…THAT'S GREAT! I am no respecter of stealers, nor would I ever turn away a thoughtful Steal post. Come one, come all. I think that's how it goes.***

And Lindsay from a blog that is, sadly, private, scored a PLETHORA of great Steals this weekend, my favourite of which is this "New Model" old school sewing machine, which makes a lovely bookshelf focal point, for $10.
So there you have it. Saving the weekend blogworld one steal at a time—that's us.
******************
I have a post in the works that has been weighing heavily on my mind for several months now. It's about feminism. It might stir the pot a bit. It might not. But I will sure be glad when it's out of my head so I can finally  get back to focusing on the important things in life like Patrick Jane and tweezing my armpit hairs.
(Did you think I was joking with that last bit?)