Hello, and welcome to another rousing round of Saturday Steals!
To participate, simply:
1) Steal a steal.
2) Write a post about it on your blog, mentioning that you're participating in Saturday Steals (you can steal the above image if you so desire), and

3. Add the link to said post to the list at the bottom of THIS post.
**********************
My steal for this week comes by way of an estate sale. Like Niki enlightened us all last week, estate sales are the best. They're pretty much just like yard sales, only (as far as I understand them) they are selling EVERYTHING out of a person's house, in such cases as death or…I don't really know why else someone would sell EVERYTHING out of a house. Being sent to an insane asylum? Getting lost on a voyage in Outer Space?
I guess it's a bit morbid, buying dead people's old junk for pennies on the dollar, but does that stop me? No it does not.
I swung by just such an estate sale the other day on my way home from school, and here's what I got:
An awesome vintage vinyl foot stool…
This writing underneath is how I know it's vintage…and also made in Ontario, Canada.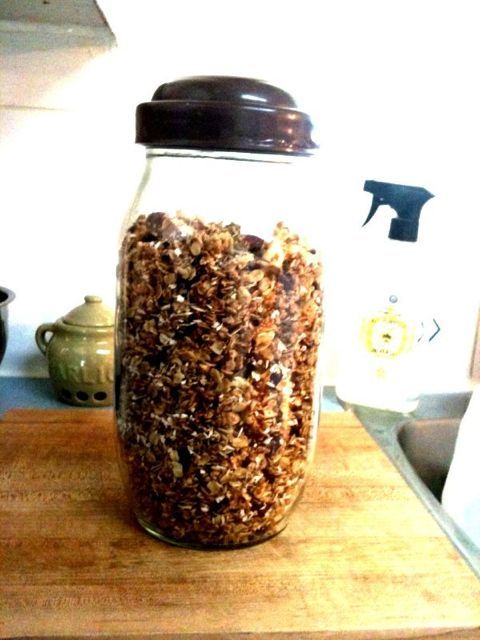 This sweet 2 litre glass container, featuring my homemade granola (granola not included). (If there had been 20 of these, I'd've bought them all; sadly, there was but the one. I adore the look of kitchen staples stored in glass containers).
This vintage (I think?) square-top turquoise/blue Pyrex™ bowl. It will look adorable filled with cherries, I think.
And this awful-looking, cat-pee smelling chair…
…which I promptly tore apart for a little DIY lovin' (photos to follow next week I hope).
My grand total was $12.00.
(Oh and I got a shirt included with that, too. Not pictured because it might be fugly…I'm not sure yet.)
I'm pretty pleased with myself.
So what did you steal this week? Add yours to the list below:
*****************************************