Are you watching American Idol this season?
Kyle and I oscillate; the first entire season either of us had ever watched was when David Archuleta won, and we were smitten. But then the next season Kyle was gone a lot and I started school, so we never made the time to watch even one episode.
This year, though, we've gotten into a better routine that has allowed us to maximize our time together, and you'd better believe that one way we maximize said time is to watch downloaded episodes of American Idol.
Don't judge us. It's good for our relationship.
Anyway, this season, the minute I saw Siobhan, I thought to myself, "That girl's haircut would look really cute on me."
Just to clarify for those of you snobs who are above watching crummy reality TV, here's what Siobhan's haircut looks like:
And for some reason, when I saw it, I just couldn't get the idea out of my head that I should try cutting my hair like that. Which is unusual for me, because I have always fought against short hair. For some reason, having hair that can't fit into a ponytail has always seemed to me the ultimate risk—a risk I have never before been brave enough to take.
Before today, this is the shortest my hair has ever been:
(Which reminds me: sometimes I miss blonde hair.)
And even though I have always held out hopes and dreams for long, flowy, luscious hair, the fact of the matter remains that, when grown long, my thin Gollum hair gets droopy and saggy and limp when what I really want are tresses with perk and pizazz (a disappointing characteristic suspiciously similar to another part[s] of my body, unfortunately [I have a lot of problems]).
Case in point: Gollum. Or crack addict (but you can read more about that here and here).
For my thin little stringy strands of hair, length is never a good idea, try though I might to make it work.
So anyway, today at exactly 4 p.m. I thought to myself, "Before this day is through, I will get my hair cut." I don't know where it came from; I had no intentions of taking such a plunge when I woke up this morning. But two hours later, I found myself in my hair girl's chair snapping one last farewell to Smeagol: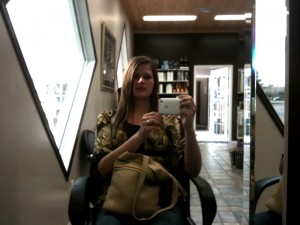 Surprisingly, I wasn't sad or nervous. In fact, I have never felt more confident that a hairstyle would be good for me.
I don't know where the inspiration came from or where the heck it's been hiding all my life, but today, I felt absolutely certain, with 100% clarity like only probably the best of Tibetan monks can achieve (I've been doing yoga; that must be it) that Siobhan hair was what I needed in my life.
And I'm pretty sure my instinct was dead on.
I want to donate this ponytail to a good cause, and I've heard Locks of Love isn't the best donation company. Any suggestions?
So, the results?
Well, see for yourself: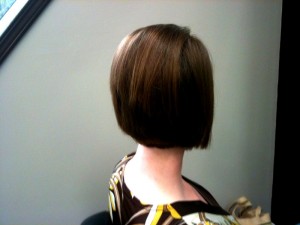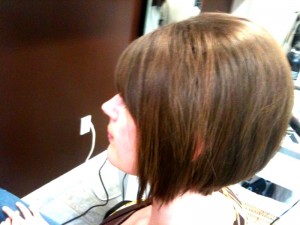 Those Tibetan monks must be on to something. I should do yoga more often.
******************
I have a different sort of post in the works for tomorrow's Saturday Steals event, and I think you're going to like it! Everybody remember to write your posts and come back later Friday evening (and all weekend long) to one, link yours up to the list, and two, see what other steals the internet has come up with this week!
And just for your information, it has been working out well the past few weeks for me to keep Saturday Steals open from Friday evening to Sunday at 11:59 p.m., so I'm going to stick with that formula, which gives you AMPLE time to post about a previous steal or even to get out there, locate a steal, steal it, and post about it. It's really more of a weekend steals event, but Saturday Steals has a better ring to it. Anyway, there's no good excuse for failing to participate, so DON'T BOTHER making one; just steal.