So I have a sister, and I love her. She is amazing, both as a person and in her role as sister. (She's also a great wife and mother, although I have on good authority that she wouldn't let her three year-old son wear his camouflaged rain boots to church on Sunday, which to me is just a bit harsh and Type-A, but to each her own.)
Anyway, she's a pretty much all-around great person, and she recently started a blog which I plugged once but which has since taken off to even grander proportions and deserves another solid plug.
Because she does impressive things to ugly furniture.
Take this nightstand, for example.
Before:
After:
What a transformation, right?
Or this one…
Before:
After:
Or my most recent favourite:
Before:
After:
And she's really good at chalkboard-ish stuff: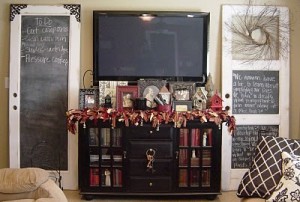 Like I said: amazing.
If you're interested in home decor stuff and you live in the greater Phoenix metro area, you should stop by and go shopping. Her prices are very reasonable (did I mention she sells this stuff), and if you read her back posts you'll see examples of some of the furniture she even builds herself (benches, shelves, etc.). Which is also for sale.
Even if you don't live in the greater Phoenix metro area, but you're still interested in homey stuff you should still read her blog regularly—it will give you good ideas.
Who knows, you might even find a good steal for this weekend's Saturday Steals (kicking off at 8 p.m. tonight, my time).