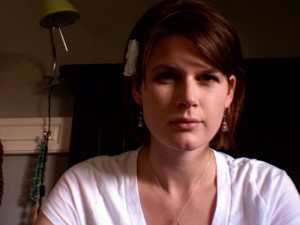 Hello. I'm Camille and I have a butt-chin.
Welcome to my blog.
I was born and raised in Mesa, Arizona, but I'm living in Canada now (long story).
Only seven years out of high school, I finally graduated from the University of Lethbridge in 2011 with my BA in English.
Hallefreakinglujah.
Now I work in marketing and social media…that is, I did until I had two boys and decided to quit my job and be a stay at home mom.
Here's what makes this blog tick:
I have been married nine tumultuous years (to a guy missing his two front teeth) and here's what I have to say about that.
And here's what I have to say about his ex-girlfriends. (Hint: it's not very nice.)
I call my husband Poor Kyle. For reasons that should, by now, be obvious.
I live in a town called Mayberry.
I'm sort of antisocial. And by sort of I mean clinically.
I'm also kind of sheltered. And by sheltered I mean prude. (Which may or may not be another reason why Poor Kyle is so Poor.)
I once went two+ months without using shampoo. That was fun.
But really, if you don't have time to read any/all of those posts, you can pretty much find out all you need to know about me and this blog by reading this one sentence (and if you feel compelled, then also the link that goes with it): I really don't like Taylor Swift's songs.
So that's that. Thanks for stopping by, feel free to hang around, yadda yadda etc. etc.
I'll try to make it worth your while.
But I won't make any promises because I'm also pretty noncommittal,
cpsf
{p.s. Contact me via camille at archiveslives dot com}